About Us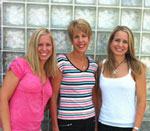 East Cobb Prep is family owned and operated. The owners have extensive experience in both the child care industry as well as the running of a successful, NAEYC accredited preschool.
The social, physical and intellectual growth of every child who walks through our doors is our top priority.
We are committed to going above and beyond the highest standards by providing every child a nurturing, positive, safe and developmentally appropriate learning environment.
Our state-of-the-art facility was created with your child in mind, from our custom-sized amenities, to our indoor playground and fun water park. Safety, security, and fun were what we had in mind when building the best child-centered environment anyone could offer!
We value the children in our care, their parents and our employees, and will continually work to earn the trust placed in us.